The Dakine Snow Pack family of backpacks are purpose built for experiencing the backcountry in the snow. Features are well thought-out and implemented in a way that preserves precious space, yet maintain organization and ease of access. Whether you're hitting the ski slopes for the day, or doing some serious snowshoeing or mountaineering, Dakine offers several packs designed to meet our needs in the backcountry.
I decided on the Dakine Poacher Backpack. At 2746 cu in, the Poacher is Dakine's second largest pack. When I was shopping for a pack, my primary requirement was the ability to strap my snowshoes and snowboard on the back. I initially overlooked the Poacher pack because I didn't see any straps for the vertical snowboard carry. On closer inspection, I discovered the vertical carry straps were neatly tucked away in hidden pockets, as seen below.
Further inspection revealed many more great features. The back access entry allows you to quickly and easily reach the contents anywhere in your pack. There is a dedicated quick access snow tool/shovel pocket which neatly stowes your snow shovel, avalanche probe, etc. You'll also find a dedicated pocket for your goggles, a fleece lined pocket for your phone or small camera, and a quick draw sleeve for your ice axe. Another cool feature is the insulated sleeve for your hydro pack drinking tube. This allows you to route the drinking tube from inside the pack through the shoulder strap where it's easily accessible, yet no worries of icing up. There are many more great features on this pack that I'm still figuring out.
Overall, I think the Dakine Poacher Pack is going to meet my needs perfectly. It's a place to keep all my snow gear together. All I have to do is throw it in the Bronco and hit the the snow. Whether I spend the day out snow wheeling, or exploring on snowshoes, I'll be better prepared with this pack.
Volume: 2746 cu in
Size: 28 x 11 x 10 in
Weight 3.7 lbs

Features
• Vertical snowboard carry
• Retractable cable ski carry
• Dedicated A-Frame ski carry
• Top load and back access entry
• Insulated hydro sleeve
• Quick access shovel pocket
• Quick draw ice axe sleeve
• Load compression straps
• Customizable internal frame
• Adjustable padded waist belt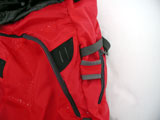 The straps for carrying your snowboard or snowshoes are hidden in hard to detect pockets.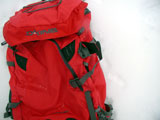 Here you can see one of the vertical carry straps pulled out of the hidden pocket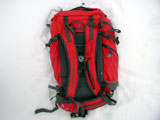 Insulated sleeve for your hyro pack drinking tube runs through the shoulder strap. Prevents drinking tube from icing up in cold weather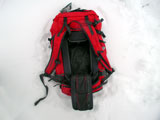 Back access entry provides quick access to your pack contents. Very cool!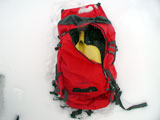 Special quick access pocket is specifically designed to carry your
avalanche shovel
, avalanche probe, etc.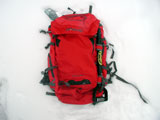 Quick draw ice axe carry. Or you can carry your snow shovel handle as pictured.