In case it will help out someone else, here's my experience with the Camp Muir Public Shelter.
We were there for the night of Sunday September 23, 2012. There ended up being six of us in the Shelter that night. We packed a tent, and were planning on staying in a tent, but it ended up being extremely windy so we stayed in the public shelter. It's also worth noting that the surrounding snowfield was in terrible condition this time of year, so there wasn't really a good place to put a tent anyway. Although we could have have manged if we had to.
The shelter will comfortably sleep 14, and few more could be squeezed in. I believe it's capacity is 18. Things would certainly be cramped when anywhere near capacity.
Overall, I had a great exerience staying in the shelter. It was great having a place out of the wind to spread out and relax. The cooking table was great too! I briefly talked to a Ranger, and he said the shelter is pretty full most of the season. So I think we caught it at just the right time. Regardless, I'd probably bring a tent as a backup.
It's also worth noting that Camp Muir was being closed up for the season that week. The Ranger said the Public shelter was available year round, and you'd have to dig out the side door to get in.
Me standing outside the front door of the Camp Muir public shelter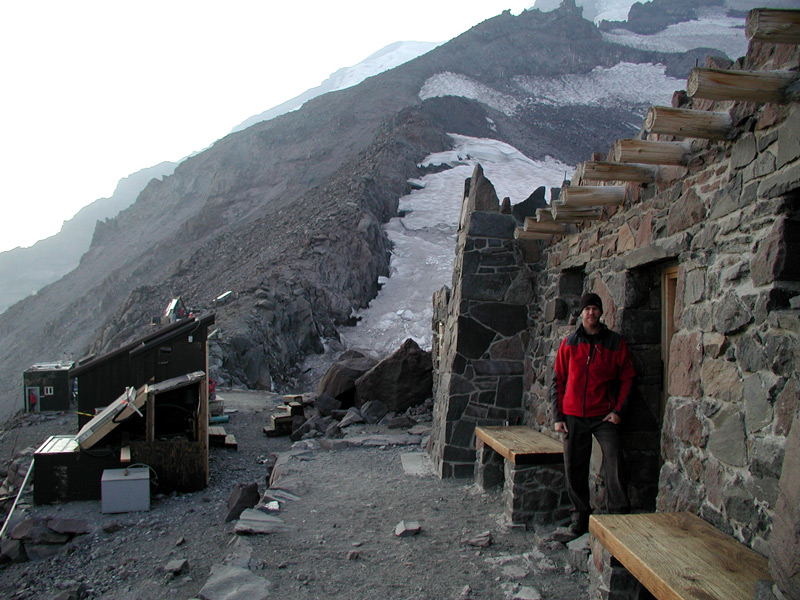 Inside view of the Camp Muir Public Shelter