My journey to the summit of Mount Rainier is officially underway. Last weekend I successfully completed phase two of my plan. Phase one consisted of getting back into reasonable shape. Phase two, was to hike to camp muir for a night to get a better idea if I actually want to try to summit! Which brings us to the phase two trip report... Camp Muir, elevation 10,100'.
We didn't really plan on a late September Muir trip, but as is typical, the end to our summer was rapidly approaching. Steve and I put our real lives on hold and set a plan in motion. September 23, I woke up at 4am Sunday morning. At Steve's by 5am, and we started the 3+ hour drive to Paradise.
We rolled into Paradise around 8:45am. It was a beautiful warm morning. The summit of mount Rainier was perfectly clear.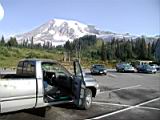 We checked in with the Ranger and got our free over night permit. Took care of mother nature, and headed down to the lower overnight parking lot. Packs on and ready to head out around 9:30am. Hmmmm where'd that cloud come from?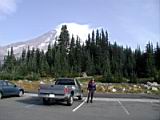 Shortly into our hike, we were ready to shed the layers! Two RMI guided groups were on the way up too.

The mountain was looking pretty clear again.

The guided groups held a pretty slow pace. It was nice to be able to judge our pace off of theirs, although we didn't necessarily want to hang with them the whole time.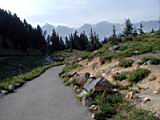 Chatted with one of the guides a bit. Notice the lenticular cloud forming over the mountain.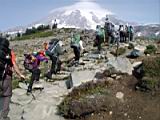 We had taken short break to let the guided group pull ahead of us, now they were taking the first break and we passed them.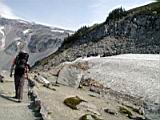 I really liked this section of trail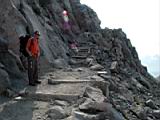 Pebble Creek, Elevation 7,200'. Just shy of the Muir Snowfield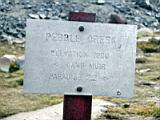 One of my many self portiats. The mountain isn't so clear anymore!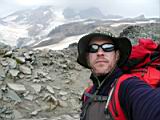 A short break, gaiters on, and we're off, on the Muir Snowfield. Where'd that wind come from?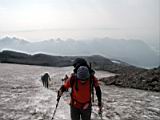 Passing one of the guided groups again.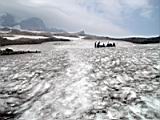 There were a lot of people out on the snowfield today. Many of which really had no business being there. The kid in the orange hoodie was wear tennis shoes and had no water or any of the other essentials. We joked with him a bit. His "friend" tricked him into this hike. There were many others like him out there.

Taking a lunch break at Moon Rocks just before 2pm. Elevation ~8,500'. Chatted with a few folks passing by. This is the start of a very steep section of the Muir Snowfield.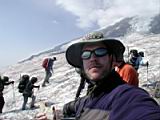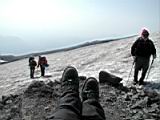 Steve and I have a bromance moment


The Snowfield was in really bad shape this late in the season... Look at the clouds!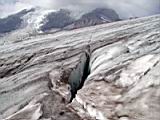 It's steep here at the moon rocks. A few members of the guided groups have fallen behind by this point.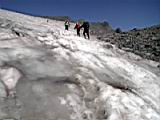 The Wind! Forecasts called for 7-8mph at Camp Muir... We could barely take a step at times!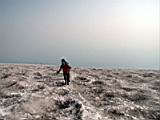 There's Camp Muir. I'm feeling great and home free!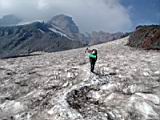 C'mon Steve, you got this! Elevation 9,500+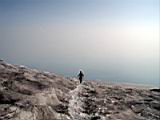 Rolling into Camp Muir. Elevation 10,100'. We did it. Did I mention the wind!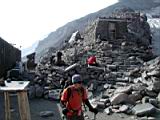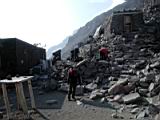 Upon our arrival to Camp Muir, we were ready for some shelter from the wind. I had expected an obvious place to setup a tent, but we only saw one permanent tent on the Cowlitz Glacier side of Camp Muir. There were couple small vacated tent platforms, but this clearly wasn't goint to be a good option today. We headed over to the public shelter to get out of the wind and decide what to do.
One step inside, Steve and I looked at each other, and the decision was made. Ohh hell yes!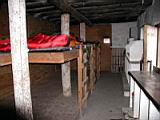 The shelter initially appeared to be a bit crowded, but there was room for us! Come to find out, several of the folks were just day hikers getting out of the wind before their trek down. We had chatted with most of them a bit on the way up.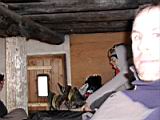 I think I had the best spot in the shelter. I could see out the door, and look down on Paradise!

A short while later, the shelter cleared out except for Steve and I and 4 other climbers. We couldn't have asked for a better group of guys to hang with! They were all experienced climbers and didn't mind offering advice to a couple noobs! First on the list was where to get some clean snow for water!
Melting enough snow for about 7-8 liters of water. Then some boiling water for our dinner. Freeze dried Mexican Rice and Chicken for me.... not bad!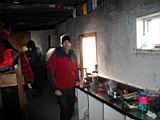 The other group feasted on some fresh Italian cuisine. They were gracious enough throw their left overs to Steve and I, which we scarfed down like a couple stray dogs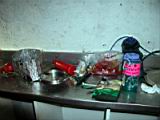 Stepped outside too see if there was going to be a sunset... meh.

Quick picture outside the entrance of the public shelter. Still windy!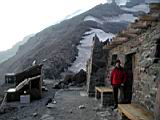 Full bellies, sleeping bags setup, time to settle in for the evening. The Serbian moonshine was great! Thanks again!

We all turned in for the night. Weather permitting the other climbers were going to attempt to summit. I tossed and turned and didn't really get much sleep. I think I was just to excited about everything going on. About 2am, Will the acting guide for the other group woke up to check on the weather. "If you have the energy, we got weather!", says Will. The other climbers jumped to and started getting ready. Steve and I both got up to see the show.
A trip outside, and weather was beautiful. Slight breeze, but the mountain and sky were completely clear. You could nearly reach out and touch the stars.
The RMI guided groups were up as well, gearing up and heading out across the Cowlitz Glacier.
We thanked the guys and wished them luck on their ascent. I was completely energized. I wanted so badly to gear up and join them. Instead, it was back to bed for Steve and I. It took awhile for the excitment to wear off, and I was finally able to get a few hours of sleep. When we woke up, it was light out. The second awakening was a little rougher for me. Steve hurried me out the door. The weather was perfect. NO WIND!

I climbed up above Camp Muir a bit and took this panorma of the Muir Snowfield, Camp Muir, Mount Rainier Summit, and the Cowlitz Glacier.

Cowlitz Glacier

We pretty much had Camp Muir to ourselves. We chatted a bit with a few of the guided climbers that turned around or didn't go for one reason or another. They sure spent a lot of money flying across the country and hiring a guide, buying and renting gear!
The Guide shelter on the left, and the Ranger shelter on the right.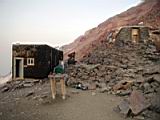 A quick peek inside the guide shelter. It's cut in half and has three levels.

We can see one of the guided teams approaching the summit! About one o'clock on the mountain.

A quick shot of the outhouse.

And it's finally time to start our descent down the mountain. On the advice of Will, we waited until mid morning to head down. We departed about 9:15am. The snowfield was still a little icey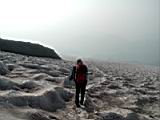 We were the only ones out there on the snowfield. I followed the most obvious "boot pack" trail, which brought us to this crevasse that we weren't expecting.
Shortly after crossing the crevasse, we could see conditions were going to get really bad!

We traversed over and got back on track. Steve got a little glissading in, but really the snowfield was in just too rough of shape. We were pretty much forced into descending one step at a time!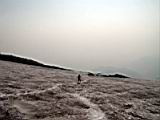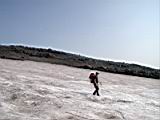 Finally off the snowfield and taking a little break.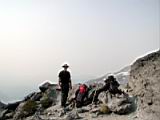 And the final shot on the way down to Paradise!

I believe we rolled into Paradise around 1pm. Forgot to take a pic for a timestamp. Changed our clothes, used the facilities, and headed out. Home by 6pm, and off to work the next morning. It was a cool feeling to go to work the next morning knowing my weekend was sooo much better than everyone else!
Based on what I saw with the other groups, I think I'm ready to summit! I feel great! The altitude didn't seem to bother me. My calves are the only things that are sore. I had built up this hike to be so difficult, that physically it was almost a let down... I guess that just means the work I put into losing 70 lbs and getting back into shape paid off! Never thought I'd be back in this condition again.
I was a little bummed that the visibility was so low. I think a lot of the haze might have been smoke from the fires in Eastern Washington.
Photo album:
http://www.snowtrek.org/camp-muir-20120 ... p-muir.php
Full video of our trip to Camp Muir. I initially was going to keep it private for friends and family, but changed it to public. I figure someone that can't physically make the trek might enjoy it. I'm actually really happy with the footage from my GoPro and my homemade trekking pole monopod.