Back in September, EBSTEVE and I took another run to Camp Muir. We were having quite the stretch of crappy weather, and I wasn't really feeling motivated. Since I didn't make it down to Mount Rainier last year, I decided to suck it up and get out of the house.
I hadn't slept well for the two nights prior. The night before, I was up late running around finding my gear and packing. So much for decent rest! Woke up super early and headed down to pick up Steve. When we arrived in Paradise, we were above all the crappy weather! Beautiful day.I was feeling better already.
Fueled by a McDonalds Big Mac the night before and no sleep, I set off for another Trek up to Camp Muir.
Left Paradise about 9AM.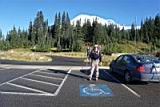 This little guy was making all kinds of noise. I thought it was a Marmot or something out in the rocks, then I looked down and there was this quail.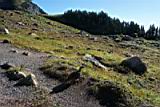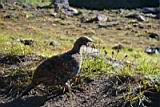 I brought a long some guests from my kids classrooms. Mooiewether Lewis and Garfield. Mooiewether has been all around the world. This was Garfields first adventure. As I was packing, I realized these guys burn up a lot of space, so they got to ride outside!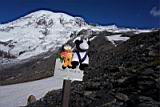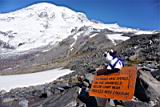 Pebble Creek - Elevation 7,200 feet.About 10:45 AM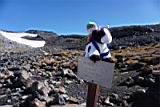 When we arrived at the Muir Snowfield, I had to do a little trail repair on my sissy feet. As I was putting on some mole skin, this couple came cruising by. The woman had a fully loaded pack and bare feet! In hindsight, I wish I would have asked them to stop so I could snap a picture.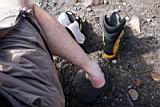 Ready to head out again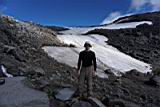 But not before getting passed by one of the guided groups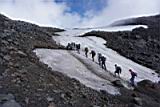 Overall, there weren't too many people. On our way up, we spent some time chatting with this couple and their 9 year old son. It was their second trip up there. They didn't quite make it to camp muir the year prior. The kid was all excited because he could have a Coke if he could make it. Something he normally isn't allowed to have.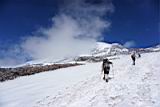 There was nice layer of fresh snow, which made climbing the snowfield much more enjoyable. Several skiers were out to enjoying some runs.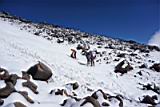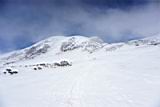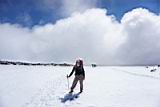 Somewhere around 8,500 feet Steve got a flat tire. Good thing I was there for some moral support.

Steve trying to work the charlie horse out.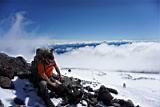 Took a quick timelapse with the GoPro while I waited.

This kid was half my age. Felt good to finally pass him up. At this elevation with a full pack, passing takes awhile. When he fell down, I knew I had him!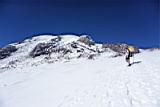 Remember the family with the 9 year old kid from earlier. Just below Camp Muir, the flagged route cut out and around, but there was also a pretty good boot track taking a direct shot at Camp Muir. I took the flagged route. Just below where the two paths reunited, I caught up to the family who had taken the direct route, but they were headed down. Their kid had just fallen in a crevass up to his arm pits. I didn't see it go down, but they were pretty freaked out. Understandibly so. The fresh snow had covered up most of the late season crevasses that had opened up on the snowfield. Even though Camp Muir is an extremely well traveled popular route, it's still VERY DANGEROUS.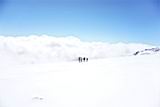 I arrived at Camp Muir around 2:30pm. The shelter was completely full! We had a tent, but I really had my hopes up for a spot in the shelter again. Luckily, about the time Steve arrived, two spots opened up.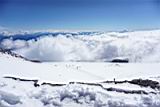 I was mentally exhausted from the lack for sleep the days prior. I wasted no time breaking out the sleeping bag and taking a nap! When I woke up, it was my turn for a charlie horse in my calf. Luckily, it only lasted a few seconds and didn't quite make it to full strength. In hindsight, I should have eaten and made more water before taking the nap. I suspect that was the cause of my charlie horse.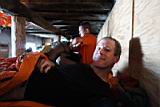 After nap time, I snapped a few pics and then we had to make water and chow.
Mooiewether Lewis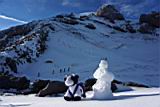 This couple rolled in late to also find the shelter packed full. They had to tent it on the Ingraham Glacier. I'm sure it was a more peaceful night for them.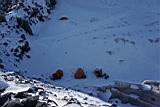 Crevasses on the Ingraham Glacier. The summit seems soo close from Camp Muir, but it isn't.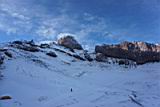 Sun won't be up much longer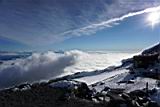 Crappy weather down there. Beautiful evening at Camp Muir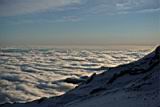 It looked like and ocean of clouds. Mount St. Helens in the distance. Even with it's top blown off, it's still a big mountain.

Mount Adams. Can also see Mount Hood in the distance.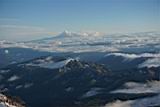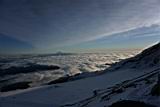 Finally,chow time. Absolutely no room to cook inside. At least it was a nice evening.And that was a wrap for the evening. I wanted to stay up and check out the stars, but since there were so many people already asleep in the shelter, I decided to just turn in for the night so I would disturb them.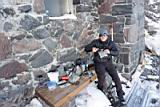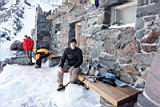 Looking down the Muir Snowfield from Camp Muir

Guide Service shelter on the left. Ranger Shelter on the right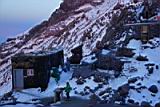 The next morning, we chatted with the guy on the right quite a bit. He was a regular on the Mountain, and was headed up to to ski down from the summit! I think there was three different groups that didn't even get out of bed for a summit attempt in perfect conditions. These are people that traveled from out of the state or country.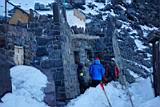 Crevasses on the Ingraham Glacier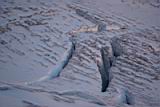 Paradise from Camp Muir. Seems easy enough. A lot people have gotten lost or lost their lives between Camp Muir and Paradise.

We threw on the crampons and headed down about 8:30am.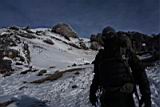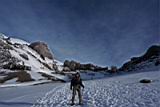 Panorama looking back at Camp Muir. I forgot to take pictures of the new restroom being built on the right.

We had the snowfield to ourselves on the way down.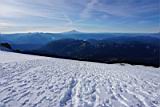 We made pretty good time going down the mountain. Back in the dirt in no time. Lots of people headed up.
And back to the car at 11:15 am.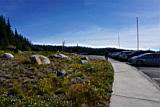 And that's a wrap for this trip.I wasn't feeling up to the challenge, but that all went away once I got on the Mountain and I felt great. I'm still hopeful that I can make it to the summit. Physically I know I'm ready. I'm just not crazy about paying for a guide service so far in advance with no guarantees.
Gallery:
http://www.snowtrek.org/camp-muir-20140 ... p-muir.php