Finally got a chance to do a little experiment that I had been wondering about. I wanted to see best "theoretical" floatation that could be achieved with one of my tires. The snow conditions were about 3 feet of fresh powder. The snow had not compacted at all, making conditions prime for this experiment.
I went for a quick walk in my snowshoes. I didn't measure, but I was sinking nearly a foot while wearing snowshoes!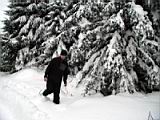 My bronco tires were aired down to 2psi. I pulled off to the side of the road in some fresh snow. Tried to maintain as much floatation as possible. I was sinking about 21-22 inches.

Then I broke out my 36x12.50R15 spare tire and rolled it from my existing tracks onto the fresh snow. The tire climbed right up. It was sinking about 11 inches. I did notice that as the snow packed lugs rolled around the tire seemed to float even more. I put my 190+ lbs on it and it didn't seem to sink any more.

Since my bronco is pretty nose heavy, I backed in my bronco into the fresh snow by the spare tire. I was in a hurry since it was getting late, so I didn't take a measurement. It appears that my back tire did come up a bit.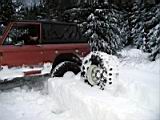 So what can we extrapolate from this experiment? Well, I was trying to demonstrate why taller tires are better. I'm not sure I acheived that with this test...maybe I just need to pack a lighter lunch. However, had I been running 40's or 44's, I would have been pushing much less snow. And, a vehicle running 31's would be dragging diffs even if it weighed zero lbs.
Hopefully one of these trips we can get some floatation comparisons between wide and narrow tires.