Not familiar with GoPro Cameras?
Check out the GoPro video below, filmed entirely with the new GoPro® HD HERO2 Camera
Why a GoPro Camera?
It fills the gap between a standard digital camera or DSLR, and a camcorder. I can't even begin think of all the times the "other cameras" were left behind because it simply wasn't safe to bring them or use them.
My decision to purchase a GoPro Camera primarily came down to the fact that it's rugged, waterproof, and it's designed to be mounted to nearly anything. It probably wouldn't be a good idea to mount your DSLR on your helmet, hood of your 4x4, or wing of an airplane. Whether it's a blizzard, sand storm, in the water, or in the hands of my kids, GoPro is there in HD!
Additionally, the GoPro Camera offers some cool features such as numerous time lapse options, high frame rates for smooth slow motion, 3D expansion, and it's small!
GoPro® HD HERO2 Camera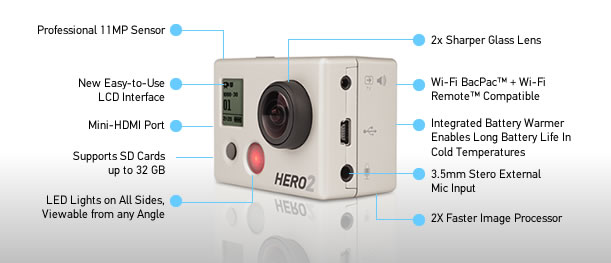 Can't afford a GroPro Camera?
No problem! Check out the daily giveaway at
GoPro.com
Every day GoPro gives away one of everything. All you have to do is submit your email address each day. Never know, might get lucky!
GoPro HD Hero2 Camera
Professional 11MP Sensor
2x Faster Image Processor
2X Sharper Glass Lens
Professional Low Light Performance
Full 170°, Medium 127°, Narrow 90° FOV in 1080p
120 fps WVGA, 60 fps 720p, 48 fps 960p, 30 fps 1080p Video
Full 170° and Medium 127° FOV Photos
10 11MP Photos Per Second Burst
1 11MP Photo Every 0.5 Sec Timelapse Mode
3.5mm External Stereo Microphone Input
Simple Language-based User Interface
Wi-Fi BacPac™ and Wi-Fi Remote™ Compatible (coming soon)

Long Range Remote Control of up to 50 GoPro Cameras
Wi-Fi Video/Photo Preview + Playback + Control via GoPro App
Live Streaming Video and Photos to the Web
What you need to know
. When I first started looking at the GoPro HD Hero2 Camera, I was a bit overwhelmed by all the accessories. I wanted them all, but like many, I had to choose. Below I've highlighted a few of the accessories that I think deserve special consideration.
Battery BacPac
*Must Have*
2.5 hours of battery time is great, but it's simply not enough! 2.5 hours is not going to cover a typical day in the backcountry, particularly in the snow. GoPro cameras are designed to record 4-6 hours of video, therefore, at minimum we need at least one spare battery. The
Wasabi Battery and Charger Kit
from Amazon is a great option which includes two batteries and a charger.
The other option is the
GoPro Battery Bacpac
. The battery BacPac can be used as an external charger, or you can attach it directly to the back of your GoPro Camera to double your battery time. It's simply a must have!
Skeleton Housing
*Must Have*
After receiving my GoPro camera, I quickly realized the need for the
Skeleton Housing
. The standard waterproof housing comes with a non-waterproof backdoor. The idea is to let in more sound. This works ok, but it still muffles the sound a bit. Additionally, it prevents you from plugging in any of the cables. When the camera is removed from the housing, there is no way to use any of the mounts, and it lacks the protection of the housing.
The skeleton housing solves these problems. If your camera is going to spend a lot of time on your dashboard, or in non-hostile environments, the skeleton housing is the way to go. You can keep the camera plugged into a USB power source which will extend the life of your battery, and you'll be able to capture unobstructed sound. Another must have!
LCD BacPac
*Nice to Have*
The LCD BacPac is a detachable LCD screen. I initially thought the LCD BacPac was a must have, but after receiving my GoPro camera, I've found the Field of View(fov) is so wide, that it's really quite difficult to miss the shot. The LCD BacPac is still a really cool accessory. It lets you watch and share your videos and pictures with your friends instantly (with sound). It also takes the guess work out of aiming the camera. It's great for setting up complex shots and great for kids.
Wi-Fi BacPac
*Released June 2012*(finally!)
The
Wi-Fi Bacpac
is finally here! Wi-Fi enable your GoPro HD Hero2! Remote control! Live Streaming video directly from your Hero2! Remote control via smartphones, tablets and computers! Can't wait for this one!
Tripod Mount
*Nice to have*
Tripods and other stabilizing devices can take your video to the next level. In addition to allowing the use of a tripod, the
GoPro Tripod Mount
is also a simple way to create custom mounts, requiring only the use of a single screw.
You need an SD card.
SD cards are not included with the GoPro cameras. This is actually nice since it helps keep the initial cost down, especially if you already have some SD cards. A class 10 SD card is only required for the .5 second timelapse, otherwise GoPro says a class 4 SD card is all that's needed. The time lapse feature is really cool, and probably worth paying up a few dollars for the class 10 SD card. We also don't know what features future firmware updates may include.
It's worth noting, that all SD cards are not created equal. Generally you get what you pay for. Performance can vary widely between brands and classes. If you are willing to put up with possible corrupt files, choppy playback, or other errors and performance issues, then give an off-brand a try, it may work perfectly.
SanDisk is pretty much top of the line, and GoPro has stated they also use Kingston and Patriot SD cards. Before you buy, I recommend reading the
SD card reviews at Amazon.com
. If you want a sure thing, get the SanDisk 32GB Class 10 SD card.
The GoPro Story
is pretty cool in itself. I always enjoy a good entrepreneurial story, and this is one of them. Check out this
Q&A with founder and CEO Nick Woodman
.
GOPRO®, HERO®, & NAKED® are trademarks or registered trademarks of Woodman Labs, Inc. in the United States and other countries.