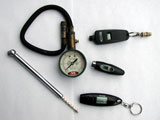 Airing down your tires is the most important thing you can do for improved traction and flotation in snow. That means you need an air gauge that reads low pressure from 1-5psi.
There are 3 main types of air gauges
• Digital Air Gauge
• Analog Dial Air Gauge
• Pencil Air Gauge


Digital Air Gauges are my first choice. They generally can read a wide range of pressures. You can find them in nice compact sizes that are easy to stuff in a pocket or hang from your mirror, or you can step up to high end racing gauges. One big drawback to digital gauges is they are electronic, and they will go bad from time to time.
Analog Dial Air Gauges are my second choice. While they are generally pretty accurate, the low pressure gauges are limited to a small range of pressure, 0-15psi or whatever. This means you'll need another gauge for airing up to street pressure.
Pencil Air Gauges have their place, but they should be avoided when considering a low pressure gauge. Pencil gauges are popular in the tire service industry because they are fast, and "close enough" when dealing with normal operating pressure. There are pencil gauges that read 1-20psi, but I've found they are not very accurate. Many times people with pencil gauges think they are at 4 or 5 psi, and when I check with my gauge, I find that they are actually at 8 or 9psi. That's leaving a significant amount of traction on the table.
I've listed several guages below that have been tested, and a couple that I would like to test. If you know of a good compact gauge that reads below 2psi, please leave a comment below or join us in this thread in the Snow Wheeling Forum.