Choosing which tires to buy always seems to be a touchy subject among four wheelers. A good deep snow tire seems to complicate the issue that much more. The reality is, there are many different snow conditions. Some tires may perform very well in specific conditions and poorly in other conditions. While I won't try to convince you what the best snow wheeling tire is, I will try to cover some of the tire qualities that I have found to work well in most snow conditions.
A good deep snow wheeling tire should fall into the following categories

• Radial
• Siped
• Mud Terrain

Radial tires perform much better than a bias ply tire in the snow. Bias tires generally have a stiffer sidewall that contributes to higher ground pressure (explained below). The design of radial tire distributes the weight of a vehicle more evenly over the area of the footprint, whereas the bias ply tires will tend to have a higher ground pressure at the sides of the footprint. Radials generally have a softer rubber compound. When it's really cold, you can feel the difference with your hand. The softer rubber helps the tire stick to the snow.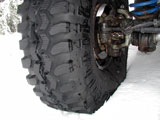 Hand Siped Super Swamper TSL Radial
Read more about
Siping Tires
Siping is the process of cutting razor slits across the tread of the tire. This results in a much more flexible tire and hundreds of additional biting edges. Siping isn't a must have, but it certainly helps...a lot. I've found siping to be nearly as effective as studs. Some tires come with factory siping, but generally this is something you'll pay for when you purchase the tire. Or for more thrifty wheeler like myself, you can purchase an Ideal tire groover and install the blades upside down. It's a lot of work, but I've been pleased with the results. When shopping for tires, keep siping in mind. Some tread patterns just won't hold up well to siping...Read more about Siping Tires
Mud terrain tires seem to work the best in the snow. While all-terrain tires might work really well in some conditions, I've found that mud terrain tires work the best in most conditions. However, all mud terrain tires are not created equal. A tread pattern that is too agressive will result in too much digging. If the tread pattern is too tight, it may not self clean enough. Snow tends to be more sticky than slippery. Not very intuitive, but true. Snow sticks to itself very well. A good snow tire can use this concept to our advantage. The idea is to have a tire that holds some snow in the voids, but still self cleans a little bit. The snow that stays stuck in the voids and sipes will help the tire stick to the snow on the ground. We still want some of the lugs to be clear to get a fresh bite. The three stage lug design on many of the super swamper tires applies this concept very well.
Wider is better. Not so fast! Given equal tire pressure, a 36x12.50 and a 36x14.50 will have the same size footprint. The shape will be different, but the total area will be the same. Don't stop reading. I'm not crazy. Here's the deal...to keep things simple, lets say we have 4,000lbs vehicle. We'll assume it's perfectly balanced and therefore 1,000lbs at each tire. If the tire is inflated to a known pressure, say 5 psi(pounds per square inch), we can now determine the area of the footprint in sq/in using the following formula.
Weight/PSI = Footprint Area

1000 lbs / 5 psi = 200 square inches

With the known area of the footprint, we can now determine the shape of the footprint by dividing the area by the width of the tire. For this example lets say 12.50 inches. This will give us the length of the footprint. Please note that this is only to demonstrate the effect of air pressure on the footprint size. Tire type, actual size, tread pattern, sidewall ballooning, etc will have an impact on the actual footprint size.
Footprint Length
Tire width
10.50
12.50
14.50
5 psi
19.05
16.00
13.79
10 psi
9.52
8.00
6.90
28 psi
3.40
2.86
2.46
Area / Width = Length

200 sq in / 12.50(tire width) = 16.00 inches (footprint lenth)

As you can see in the chart, a tire 12.50 inches wide at 5 psi will have footprint 16 inches long. A tire 14.50 inches wide will have a footprint only 13.79 inches long. The narrow tire has a longer footprint, and the wide tire has a shorter footprint.
So what does all this mean? In theory it means that a wide tire and a narrow tire exert the same amount of ground pressure at a given PSI. In reality, my experience seems to support it. While there are certainly going to be some conditions where a wider tire will perform better, the same holds true for a narrow tire. It's also worth considering that Wider tires are heavier, and require deeper offset wheels. This contributes to much more wear and tear and broken parts. Wider tires also need more fender clearance and wider fender flares to stay street legal. Wide tires also don't behave as well on the street. Offically, I'm just not convinced that wider is better. I've been at this for a few years, and I just haven't seen the evidence. Sure would be a fun test to do someday! Based on my experience, I'll recommend something middle of the road, say 12.50-13.50 range.

Taller is better. In the deep snow progress is generally halted when you start pushing too much snow. Taller tires mean you'll push less snow. When I made the transition from 33's to 36's, it made a world of difference. Instead of just following along, I was able to get out and break trail. I also have to try pretty hard to get stuck. The step to 39-40's and beyond makes an even more significant difference. Based on my experience, I'll recommend no less than 35-36 inch tire. That's a pretty reasonable tire size that can be made to fit most vehicles. Beyond that many of us will be looking at more significant drivetrain, suspension, and body modifications.
Wheel Size. Just a quick note on wheel size. You want your wheels to be somewhat narrower than your tire. This will help prevent you from losing a bead at low pressure. I run 15x8 wheels with 36x12.50R15 tires. At 2 psi, it's very very rare that I lose a bead. In fact, I don't recall the last time. I do not run bead locks. 16.5" wheels should be avoided unless you have beadlocks or innertubes. The design of the wheel puts the bead at an angle, and lacks the safety bead that is present on other wheels. 16.5" wheels will not hold a bead at low tire pressure.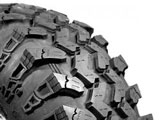 The Irok Radial is currently one of the more popular snow wheeling tires. It has some factory siping and Radial Iroks are available in sizes up to 41 inches!
The super swamper tsl radial is not very popular, but it's a solid performer. The 2 ply sidewalls allow this tire to perform well at low pressure. The lugs accept siping very well. Available in sizes up to 38 inches.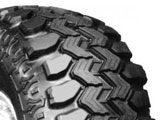 The SSR is similar to the TSL Radial, but has a slightly tighter tread pattern. The SSR also has factory siping on the center lugs, and can accept additional siping. Available in sizes up to 38 inches.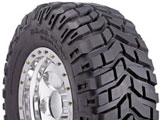 The Baja Claw Radial is another solid performer. The tread lugs can accept a variety of siping and grooving. Radials available in sizes up to 35 inches. Larger Radial sizes were discontinued. Monster bias-ply sizes up to 54 inches!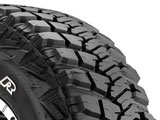 New Goodyear Wrangler Kevlar MTR. The old MTR was a decent snow tire. I haven't seen much feedback on the new MTR. Not sure how it will hold up to additional siping.