I'm on a quest to find a replacement for my now dead Accutire MS-46B digital air gauge. These were awesome little gauges that read down to 1psi in .5psi increments. I reached out to Measurement LTD and they confirmed that these gauges are no longer produced, and were replaced by the Accutire MS-4652. I've already tried the MS-4652 and it will not read below 3psi.
Accutire MS-46B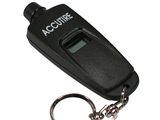 I've posted a new article listing some of the gauges that I have already tested, and a couple that need testing.
http://www.snowtrek.org/low-pressure-ai ... gauges.php
So what gauges are you using for that low snow wheeling pressure?